The catalogue module ensures that all media-independent information in PlusParts may also be output in printed form.
A combination of pictures on the
internet
,
CD-ROM
and
microfiche
makes media integration complete. The catalogue module offers the same advantages as the microfiche module but it is substantially more flexible in terms of layout adaptability.
Design is not as important for the microfiche as it is for the printed catalogues.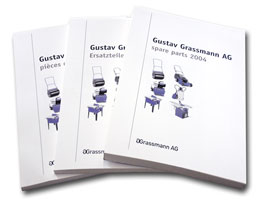 There is a choice of two layouts for the catalogue: one in the back office based on pre-defined style elements or simply in your favourite DTP program. Then you only need to be able to export your page template as a PDF file and the rest is processed as usual in the
back office
.